Welcome to our iHerb promo code site! Here you can conveniently find all the best codes and offers to save on your vitamins purchase. Our team of experts checks the iHerb website daily to ensure that we have the most up-to-date promo codes. You can easily access all codes and coupons in our special table. With our help, you'll never miss a single discount and can buy everything you need for beauty and health at low prices.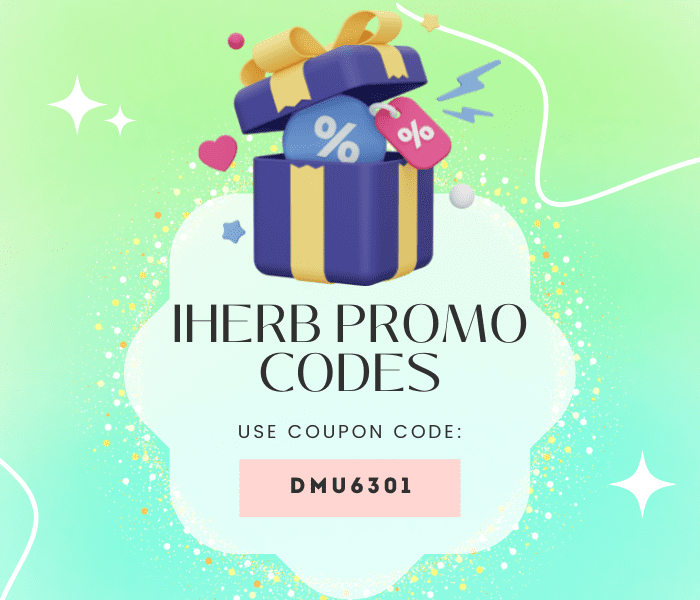 iHerb Promo Codes for June 2023
🎁 Promo code
💰 Discount
🛍️ Valid for
🔝 TOP CODE
💰 10% for the first order
💰 5% for all orders
Works with other promo codes
Applies to all items
Expires 30.06.2023

20%
For first order
Expires 30.06.2023

10%
For all buyers
Order of $60 and up
Applies to all items

30%
10% off regular order
30% off iHerb Brands
Expires 07.06.2023

25%
For sports goods
Expires 14.06.2023

25%
For fish oils and omega from iHerb brands
Expires 31.12.2023

20%
On healthy foods from the brand Bob's Red Mill
Expires 31.12.2023

20%
On supplements from DaVinci Laboratories of Vermont
Expires 31.12.2023

20%
On supplements from Swanson
Expires 31.12.2023

20%
On sports supplements from Force Factor
Expires 31.12.2023

20%
On baby food from Gerber
As you can see in this table, there are many coupons for 5%, 10%, 15%, 20% and 25% off. Each code has a different expiration date, terms and discount value. Choose and use the promo code that works best for you.
How to use a iHerb promo code – Instruction
Using an iHerb promo code is easy. Here are the step-by-step instructions:
Visit the iHerb website and select the products you would like to purchase.
Once you've added everything to your cart, proceed to checkout.
On the checkout page, at the top left, you'll see a box labeled "Promo Code".
Enter the iHerb Promo Code in the appropriate field.
Click "Apply" to apply the discount to the total amount of your order.
If the promo code is valid, the discount will be applied.
Enter your shipping and payment information to complete your purchase.
We've made using promo codes on our site even easier by including links that automatically apply the code when you click them. Simply open the coupon and watch the total amount of your shopping cart decrease.
It's important to note that only one iHerb promo code can be used per order. Choose the one that gives you the biggest discount. We also recommend adding items from the trial section to your order as they are heavily discounted (many supplements can be purchased for $1). However, only one such sample can be added to a single order.
iHerb Code for first order
The iHerb promo code for the first order is DMU6301. It gives a 10% discount to new customers. The code has no expiration date and is valid for orders of any amount.
In June 2023, you can also use the iHerb promo code for new customers – NEW20. This code is even more advantageous as it gives you a discount of up to 20%!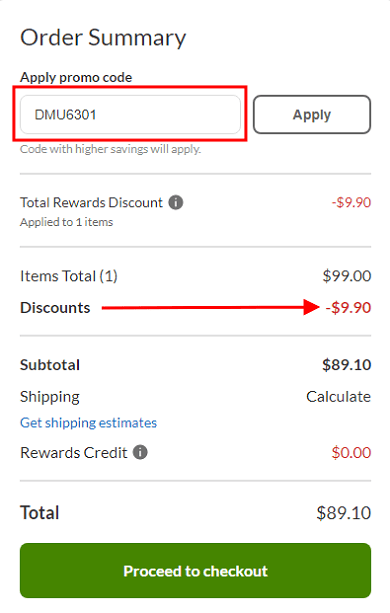 You can enter these codes one at a time on your first order to choose the one that will benefit you most. To apply the code, you need to register on the official website of iHerb. After registration, you can start saving from your first purchase.
The iHerb online shopping platform offers an excellent experience for beginners. Their first-order promo code is the most profitable, and some customers who already have an account resort to creating another account to take advantage of the discount once more. However, we advise against doing this as the company's staff is vigilant about such activities. They may block both accounts and revoke any rewards earned if they discover the duplicity. We suggest using promo codes for subsequent orders, which we will guide you on in the next step.
iHerb promo code for existing customers
There are several promo codes for your second order this month:
GOLD60 – reduces the cost of the cart by 10%, but the order must be $60 or more.
DMU6301 – gives 5% off orders of any amount, even $10. This promo code is suitable for small orders.
These promo codes can be used not only for the second but also for the third and all subsequent orders.
iHerb promo code for free shipping

You don't need to enter a promo code for free shipping at iHerb. In June, iHerb offers free shipping to the US, Europe, Israel, and many other countries. The threshold for free shipping varies depending on your location. For example, in the United States, you only need to order $20 or more to qualify for free shipping. In other countries, free shipping is available for orders totaling $60 or more. Orders below the threshold are subject to a delivery fee. iHerb offers various delivery options for each country, so you can choose the one that is most convenient for you, such as courier delivery. Delivery times also vary, with some countries like Germany receiving parcels in as little as five days, while packages may take up to 2 weeks to arrive in Ukraine.
IHerb Referral Promo Code
The iHerb referral promo code is DMU6301. This code gives a 10% discount on your first order and a 5% discount on your regular orders. The price is reduced regardless of the cost of the cart, so you can buy just one product and still get a discount on it. This coupon is viral because regular codes reduce the price only for orders of a certain amount, such as $60. But this one is an exclusion and works even on orders of $5 worth of items.
iHerb Discounts
In June, iHerb is delighted with its various discounts. Let's see what the site offers to buy at low prices:
20% on funds for strong immunity until June 24;
Herbs and spices with a 30% discount until June 24;
Prebiotics with a 50% discount until June 24;
20% on personal care products – the discount is valid until June 31;
Over 50% off iHerb surplus (expirations are fine, iHerb just sells the most in-demand items in bulk).
Also, remember that each week iHerb gives 20% off 14 brands. These brands change every week on Wednesdays at 10 a.m. We recommend that you always look in this category, as they often offer a discount on popular and quality products.
Secret Ways to Save More on iHerb
Are you looking to save money on iHerb? Promo codes can help, but there are even more ways to save with these secret tricks.
One of the easiest ways to save is with combo discounts. Almost all products on the iHerb site come bundled with others, so you'll get an additional discount if you buy two. You can save up to $10 this way. Additionally, many products are sold in kits or packages, especially cosmetics kits like Korean cosmetics. Search "kits" on iHerb to find them and save even more.
Another way to save is through auto-delivery. Auto-delivery can work great if you're constantly taking certain medications or using a specific product. With this subscription service, you won't need to order the product every time – it will be delivered at the specified frequency. You can reduce the product price by 5% with auto-delivery, but note that promo codes only apply to a product's first purchase.
Finally, consider getting cashback with iHerb's cashback services. You can get a portion of the amount you spent back in cash on all qualifying orders.
For even more savings, visit our site for the best deals and promo codes for iHerb. Happy shopping!
Questions & Answers about iHerb
Where can I get an iHerb promo code?
You can get the iHerb promo code on our website in the table of current promo codes.
What is the current iHerb promocode?
Currently, iHerb is offering a 10% promo code. You can use the code DMU6301 at checkout to get 10% off your order. To take advantage of the code, enter the code when prompted during checkout. Take advantage of this great opportunity to save on your iHerb purchase!
Where can I get iHerb coupons?
All the latest coupons, as well as promo codes, you will find on our website. Only here you can take advantage of exclusive and unique iHerb coupons.
How do I enter a promo code on iHerb?
You must go to your shopping cart to enter a promo code. Enter the code and click apply. There will be information about your order on the right, with a space to enter the code.
What discounts are available in June 2023?
In June 2023, you can buy products from a hundred popular brands at a 25% discount on iHerb.
How long does it take for iHerb to ship?
If you're wondering how long it takes for iHerb to ship, the answer depends on your location. The following are estimated delivery times for different iHerb destinations:
US: 2-5 days
Canada: 3-6 days
Singapore: 7 days
Poland: 7 days
Germany: 7 days
Brazil: 7-10 days
Australia: 7-10 days
Georgia: 7-10 days
Taiwan: 10 days
Ukraine: 10-15 days
Israel: 10-14 days
Kazakhstan: 14 days
Please note that these are approximate delivery times and may vary depending on your country's shipping carrier and customs processing times. If you have any concerns or questions about shipping, don't hesitate to contact iHerb's customer service for assistance.