This article explains the best calcium on iHerb. Calcium is one of the most important elements in the body. It is involved in the formation of bones, teeth, regulates the muscular system, and affects processes in the brain. Since calcium is not produced in the body, many people need to drink this mineral in supplements.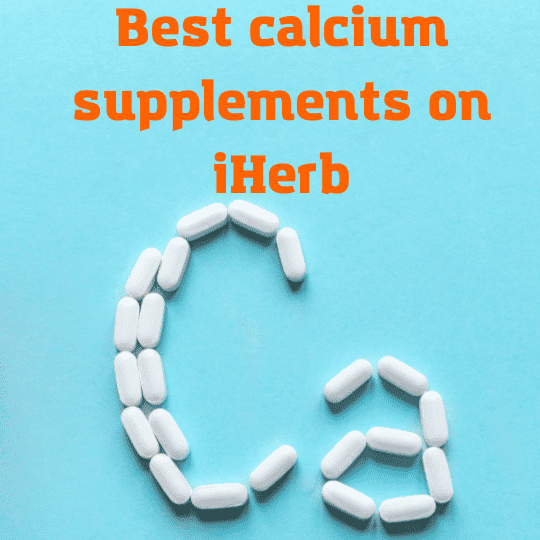 Symptoms of calcium deficiency:
Fatigue;
Drowsiness;
Numbness of the limbs;
Impaired heart rate;
Loss of concentration.
If you notice these symptoms, you should see your doctor, because a calcium deficiency can lead to osteoporosis. Only your doctor can prescribe you the optimal dose so that there is no overabundance. After all, an excess of calcium can lead to the formation of kidney stones or thickening of the soft tissues. It is worth noting that calcium is absorbed if the body has sufficient levels of vitamin D3. Without it, this mineral will be deposited in the arteries and not strengthen the bones. Therefore, it is important to address the problem comprehensively.
Foods with high calcium content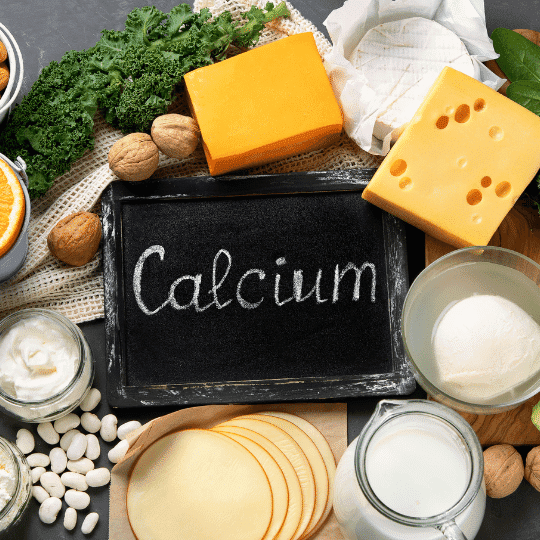 Dairy products. Milk, cheese, yogurt, sour cream, kefir – all these products contain enough calcium to cover the daily requirement, for example, eating 100 grams of Parmesan you get 1100 mg, which is higher than the daily requirement.
Spinach and all types of cabbage. 100 g of white cabbage, Brussels sprouts, cauliflower, and broccoli contain about 150 mg of calcium.
Nuts. Brazil nuts or almonds contain up to 260 mg of calcium. The great advantage of nuts is that due to the fats that they contain, this mineral is absorbed several times better.
Fish. If you choose a product to boost your calcium levels, there is no better than sardines. They contain 360 mg per 100 grams. In addition to calcium, sardines are high in omega 3 and vitamin d3. This combo can eliminate your deficiencies in just 2 weeks of taking it.
The best calcium supplements on iHerb
Doctor's Best, Calcium Bone Maker, a complex with MCHCal and VitaMK7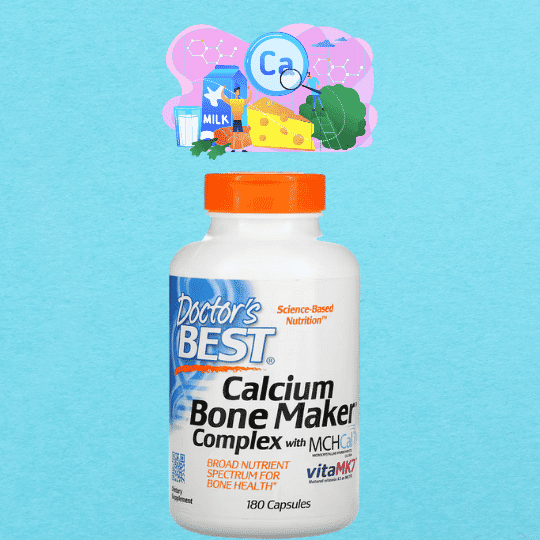 This complex contains not only calcium, but also many other vitamins that help it be absorbed better. Let's take a look at the composition:
| | | |
| --- | --- | --- |
| Vitamin C (as ascorbic acid) | 125 mg | 140% |
| Vitamin D3 (as cholecalciferol) | 23 mcg (900 IU) | 115% |
| Vitamin K2 (as menaquinone, VitaMK7®) | 40 mcg | 35% |
| Calcium (from MCH-Cal™️) | 300 mg | 25% |
| Phosphorus (from MCH-Cal™️) | 123 mg | 10% |
| Magnesium (from dimagnesium malate) | 150 mg | 35% |
| Zinc (from zinc monomethionine) | 6 mg | 55% |
| Copper (from copper gluconate) | 0.6 mg | 70% |
| Manganese (from manganese citrate) | 1 mg | 45% |
| Potassium (from potassium citrate) | 49 mg | 1% |
| Microcrystalline Hydroxyapatite Calcium (MCH-Cal™️ ) (from bovine bone ext.) providing: | 1363 mg | † |
| Type 1 Collagen | 273 mg | † |
| Boron (from boron citrate) | 2 mg | |
This complex contains substances in the most bioactive forms. It's great that it has Vitamin D3 along with K2, which help keep calcium from settling in the kidneys. Collagen, vitamin C, copper, zinc, and boron all contribute to bone formation. I had problems with my teeth, after giving up dairy products, a month after taking these pills, the enamel on my teeth became stronger and my gums stopped bleeding. I recommend this complex, price $15 for 180 capsules (60 servings).
Solgar, calcium and magnesium citrate, with vitamin D3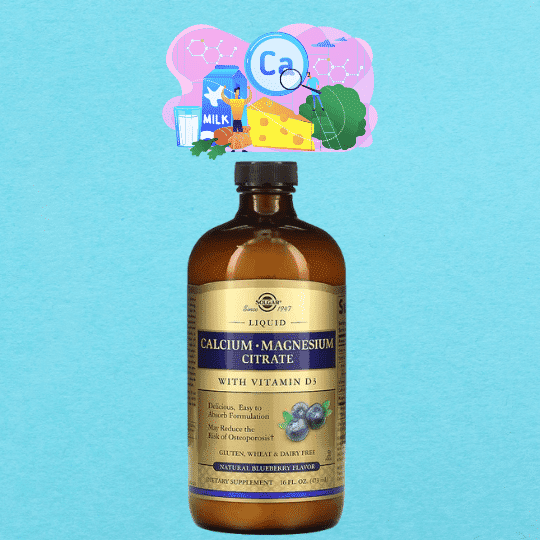 In addition to calcium, it contains vitamin D3 and magnesium. Solgar supplements for those who have normal levels of other minerals. Comes in liquid form – for those who can not drink tablets. Composition:
| | | |
| --- | --- | --- |
| Total Carbohydrate | 2 g | 1%** |
| Total Sugars | 1 g | *** |
| Includes 1 g Added Sugars | | 2%** |
| Vitamin D (as D3 cholecalciferol) | 12.5 mcg (500 IU) | 63% |
| Calcium (as calcium citrate) | 600 mg | 46% |
| Magnesium (as magnesium citrate) | 300 mg | 71% |
It is very good that there is magnesium 300 mg in the form of citrate – this is one of the most well absorbed forms. But keep in mind that magnesium citrate has a slightly laxative effect, who have constipation – no problem.
Solgar has been a trusted brand for years, and the price is $16 for 32 servings. Take advantage of iherb first order promo code to reduce the price by 22%.
Garden of Life, Vitamin Code, Calcium RAW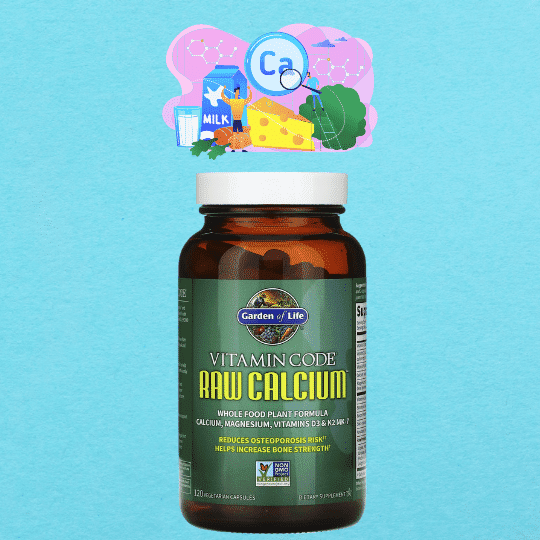 The Garden of Life brand has released a unique complex labeled RAW. This means that no heat, synthetic binders, fillers, artificial flavors, sweeteners, colors or additives were used to make the tablets. The composition is awesome:
Vitamin C (from culture of S. cerevisiae)
50 mg
56%
Vitamin D (as D3 from culture of S. cerevisiae)
40 mcg (1,600 IU)
200%
Vitamin K (from culture of S. cerevisiae)
120 mcg
100%
Calcium (naturally occurring from Algae)
1,100 mg
85%
Magnesium (from Algae and Dead Sea minerals)
357 mg
85%
Vitamin K (as K2 MK-7)
50 mcg
+
Strontium (naturally occurring from Algae)
3.8 mg
+
Boron (from Brown Rice Chelate)
3 mg
+
Silica (naturally occurring from Algae)
2.2 mg
+
Vanadium (naturally occurring from Algae)
68 mcg
+
Raw Probiotic & Enzyme Blend
Lipase, Protease, Aspergillopepsin, beta-Glucanase, Cellulase, Bromelain, Phytase, Lactase, Papain, Peptidase, Pectinase, Hemicellulase, Xylanase, [Lactobacillus bulgaricus, Lactobacillus plantarum] (500 Million CFU)
64 mg
+
There are all the elements for healthy bones and teeth. Another difference in this complex is the presence of probiotics and enzymes, which will help the body properly, digest the pills and send all the nutrients where they need to go. The price is $40 for 30 servings. Not cheap, but it's very high quality. If you can, buy this product.