In this article, I will discuss the best vitamin E to buy on iHerb, its properties and what foods it is found in.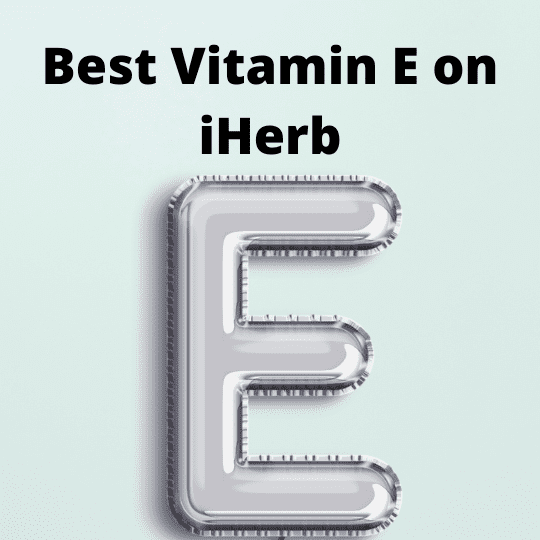 Vitamin E is the common name for a group of fatty vitamins with pronounced antioxidant activity. It occurs naturally in eight different forms, including four tocopherols (alpha, beta, gamma and delta) and four tocotrienols.
Its main role is to act as an antioxidant, reducing free radicals that can damage cells. It also improves the immune system and prevents blood clots in the arteries of the heart.
The public learned about antioxidant vitamins such as vitamin E in the 1980s when scientists began to realize that free radical damage was associated with early stages of clogged arteries with atherosclerosis, which can lead to cancer, vision loss and a number of other chronic diseases. Vitamin E can protect cells from free radical damage and completely suppress the production of free radicals in cells.
Foods with high amounts of vitamin E
As I mentioned above, vitamin E is a powerful antioxidant whose main function in the body is to protect cells from damage. It can also play an important role in maintaining a healthy immune system and protecting against chronic diseases, viruses, and bacteria.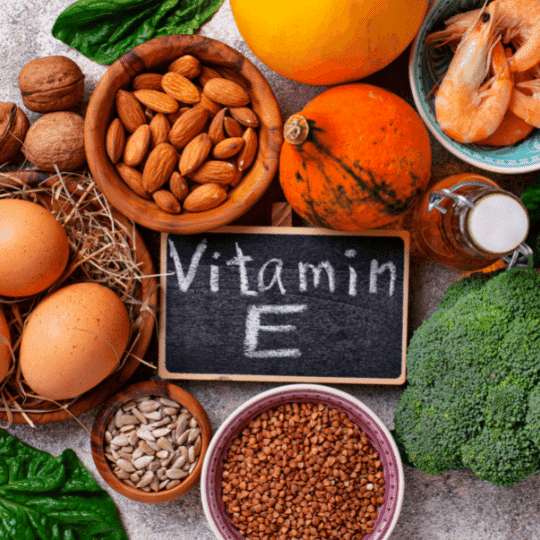 Many foods contain small amounts of this vitamin, but nuts, vegetable oils contain lots of tocopherol. Let's look at a table of foods with high vitamin E content:
Vitamin E source per 100 g:
Wheat germ oil 149 mg;
Sunflower seeds 35 mg;
Almonds 25 mg;
Sunflower oil 41 mg;
Hazelnut 15 mg;
Pine nuts 9.3 mg;
Peanuts 8.3 mg;
Avocado 2.1 mg;
Red bell peppers 1.6 mg;
Brazil nut 5.7 mg;
Mango 0.9 mg;
Goose meat 1.7 mg;
Rainbow trout 2.8 mg;
Snails 5 mg;
Crab meat 1.5 mg;
Octopus 1.2 mg.
Causes of vitamin E deficiency
The optimal daily dose of vitamin E is from 3 to 15 mg, which is a fairly large range, but each person is set for an individual dose. Humans absorb this important vitamin through food. In the body, vitamin E is stored in depots – in the liver, adipose tissue, testicles, adrenal glands and pituitary gland. Prolonged lack of even a minimum dose is bound to deplete the reserves and lead the body to a state of hypovitaminosis. However, insufficient consumption is not the only possible cause – hypovitaminosis E can also be caused by other health problems!
Problems with the pancreas, gallbladder or liver can cause vitamin E deficiency, as well as other digestive disorders that interfere with absorption of the vitamin. Another possible cause is peripheral neuropathy, as well as certain medications – antiepileptic drugs and drugs with high cholesterol levels. Prolonged consumption of mineral oils can also cause hypovitaminosis of E. However, the main cause of the deficiency remains an inadequate diet.
Symptoms of Vitamin E deficiency
You may observe the following symptoms of hypovitaminosis:
Dry and rough skin;
Hormonal imbalances;
sexual dysfunction;
A tendency to high blood pressure.
Prolonged vitamin E deficiency can lead to anemia, red blood cell breakdown (hemolysis), liver necrosis, muscular dystrophy, testicular atrophy and infertility.
To determine the deficiency, you need to get a blood test in the lab. The best thing we can do is to make sure our diet contains everything we need. A truly complete diet is also not as easy as it sounds, and it is not easy to follow every day. But luckily, the iHerb website has quality vitamin E supplements. Next, I'll tell you which is the best vitamin E to buy.
The best vitamin E supplements on iHerb
Jarrow Formulas, Toco-Sorb, a blend of tocotrienols and vitamin E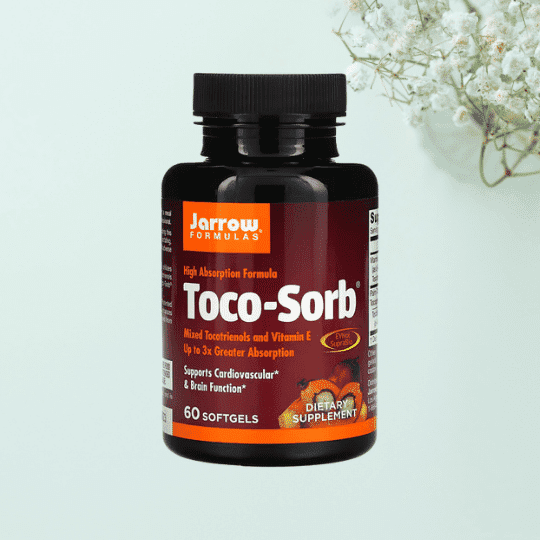 Jarrow Formulas created a formula that is highly digestible. The composition:
Serving Size: 1 Softgel
Amount Per Serving
%Daily Value
Vitamin E (as d-Alpha Tocopherol)
(From Palm Tocotrienol-Tocopherol Complex)
13 mg (19 IU)
87%
Palm Tocotrienol-Tocopherol Complex
375 mg
†
Tocotrienols
(d-Alpha, d-Beta, d-Gamma, d-Delta)
57 mg
†
This combination allows for better absorption of vitamin E compared to other supplements. Because the patented special lipid blend SupraBio™ increases the absorption of tocotrienols by 2 to 3 times. Toco-Sorb supports healthy brain and cardiovascular function and is beneficial for women's health. I was prescribed this medicine by my gynecologist to restore my cycle. The price is $19 for 60 capsules. It is a little more expensive compared to other complexes, but it is better to overpay and get the effect in a short time of taking it than to buy vitamin E for 5 dollars and not only not see the effect, but get side effects. I believe you have to pay for quality. This is the case.
Solgar, Natural Vitamin E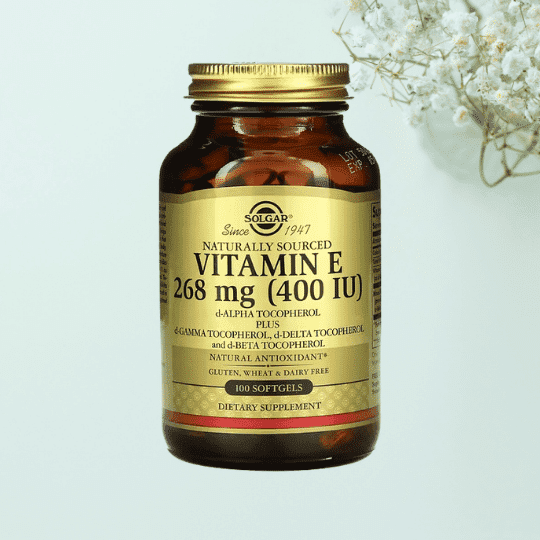 Solgar brand, founded in 1947, is one of the most popular health supplement companies in the world. You can buy products of this brand not only on the iHerb website, but also in regular pharmacies almost all over the world. For more than 70 years, Solgar has earned a good reputation for producing high quality products. All products of the brand undergo many tests.
Vitamin E from Solgar contains:
Serving Size: 1 Softgel
Amount Per Serving
%DV
Calories
5
Total Fat
0.5 g
1%**
Vitamin E (as d-Alpha Tocopherol)
268 mg
1,787%
Mixed Tocopherols
(providing d-Gamma, d-Delta and d-Beta Tocopherols)
26.75 mg
***
It is very good that it contains mixed tocopherols, this means that vitamin E will be well absorbed and really work. By taking this product, you may notice an improvement in your skin, as the tocopherols fight free radicals that trigger the oxidative process in the body.
The price of the supplement is $15 for 100 capsules. You need to take one capsule a day. When ordering, use iherb new customer code to get a discount.
Bluebonnet Nutrition, Vitamin E Complex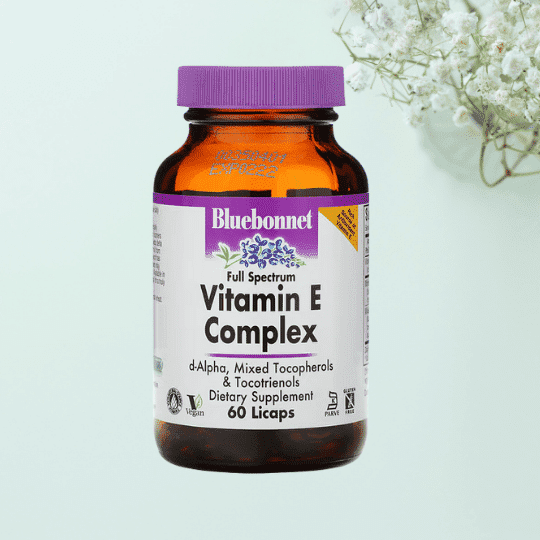 The manufacturer assures that its complex contains natural D-alpha-tocopherol with a full spectrum of natural tocopherol isomers (beta, delta and gamma) from soybeans and tocotrinol isomers (beta, delta and gamma) from organic non-hydrated palm. An oil from Malaysia, the process of which was carried out in full compliance with the strictest environmental standards. Studies have shown that vitamin E complex for all family members can provide far more benefits than just D-alpha-tocopherol.
Let's take a look at the composition:
Serving Size: 1 Liquid-Filled Capsule
Amount Per Serving
% Daily Value
Vitamin E (d-alpha tocopherol)
200 IU
667
Mixed Tocopherols
(from soybeans) (providing d-gamma tocopherol, d-delta tocopherol and d-beta tocopherol)
320 mg
*
Mixed Tocotrienols
(from non-hydrogenated palm oil) (Providing, d-gamma tocotrienol, d-alpha tocotrienol, d-delta tocotrienol and d-beta tocotrienol)
25 mg
*
Remarkably, the complex contains not only a mixture of tocopherols, but also a mixture of tocotrienols. This means that vitamin E will be very well absorbed. Excellent Dosage. The drug has passed many quality tests. The reviews are almost all positive. And it is not surprising, because this combination will really raise the vitamin E during a course of taking it to good levels and improve health. The price is $36 for 60 capsules.
But you have to take vitamin E properly. Since it is a fat-soluble vitamin, that means you have to be sure to eat it with food preferably containing fats and that you need bile to absorb it. If you have gallbladder problems, such as dyskinesia or you have hypotonic bile, then you need to address gallbladder health first. Incorporate bitters into your diet, such as arugula, chicory, artichoke. Drink bitter infusions such as dandelion, mugwort. These measures will help your bile flow freely and break down fats, including vitamin E. And if you don't, all the fat-soluble vitamins, including vitamin A, D3, and omega will simply not be absorbed.