In this review, I will tell you how to choose the best Omega 3 on iHerb. I made a rating of the top 5 fish oil supplements. Omega 3 fatty acids are extremely important for the human body. They help fight depression, improve eye health, reduce the risk of heart disease, improve symptoms of metabolic syndrome and have other proven properties. People whose diet is dominated by oily fish such as salmon, mackerel, trout get enough fatty acids and they do not need to take supplements. But in today's world we eat fish less and less often, so taking omega 3 supplements is vital.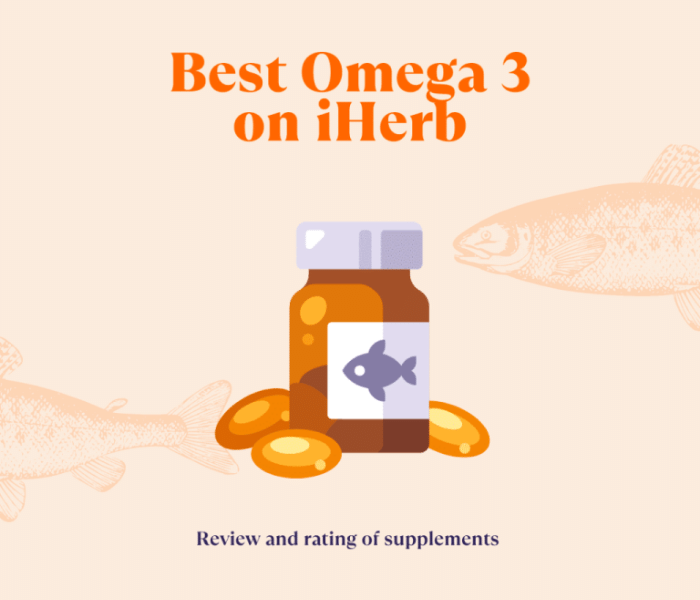 20 Reasons to Take Omega 3 for Your Health
Significantly reduces triglyceride levels by about 15-30%;
Regulates blood pressure in people with hypertension;
Increases the level of "good" HDL cholesterol;
Prevents platelet adhesion, thereby preventing the formation of blood clots;
Reduces inflammation in the body;
Reduces risks of autoimmune diseases, autoimmune diabetes and multiple sclerosis;
Treats schizophrenia, and bipolar disorder;
Helps fight age-related mental decline and Alzheimer's disease;
May help prevent cancer, especially colon cancer;
Reduces asthma in children and adults;
Helps fight fatty liver hepatosis;
Improves bone and joint health;
Relieves menstrual pain in women;
Increases the duration and quality of sleep;
Combats dry skin;
Treats depression and anxiety;
Improves vision;
Strengthens the health of the baby's brain in the womb;
Reduces symptoms of ADHD (attention deficit hyperactivity disorder) in children;
Treats type 1 diabetes.
As we can see, taking fish oil affects almost our whole body and helps to fight many diseases. All these facts are scientifically proven, so if you are facing any of these problems, include fatty acids in your diet.
Types of Omega
When omega-3 foods are listed on labels, check what type they contain. Omega-3 fatty acids are not just one, but many other fats. They all have different functions.
The three main types of omega-3 are;
Alpha-linolenic acid (ALA).
Docosahexaenoic acid (DHA).
Eicosapentaenoic acid (EPA).
EPA and DHA can be obtained mainly from fish. Alpha-linolenic acid is found in plant sources such as flax seeds, soybeans, and nuts.
You need to take enough DHA and EPA to get the benefits of taking Omega 3. Alpha-linolenic acid does not need to be taken in most cases, we get enough of it with food.
Which is the best Omega 3 on IHerb – Top 5
Carlson Labs, Wild Caught Super Omega-3 Gems
I think this is the best omega 3 on iHerb as it has 1200 mg of omega 3 fatty acids, of which EPA (eicosapentaenoic acid) 600 mg and DHA (docosahexaenoic acid) 400 mg. This is the dosage that will really help our body.
| | | |
| --- | --- | --- |
| Vitamin E (as d-alpha tocopherol) | 13.4 mg | 89% |
| Norwegian Fish Oil | 2 g | † |
| Total Omega-3 Fatty Acids♦ | 1,200 mg | † |
| EPA (Eicosapentaenoic Acid)♦ | 600 mg | † |
| DHA (Docosahexaenoic Acid)♦ | 400 mg | † |
Our whole family has been drinking fish oil from Carlson Labs on a daily basis for more than 2 years. Here are the results of taking it: I forgot about dry skin, my husband's cholesterol is normal, fatty liver hepatosis has decreased. Blood tests were all normal. I think this is the result of omega 3. How do I take omega 3? On days when we eat fatty fish, we do not take extra fish oil. On the other days, we drink it. The leaders in omega 3 content are trout, salmon, cod, herring, mackerel, sardines.
It is convenient that the set contains a large jar with 100 capsules and an additional small jar with 30 capsules. It is convenient to take it with you on the road. The price of Wild Caught Super Omega-3 is 30$for 130 capsules. Excellent price-quality ratio.
Carlson manufactures its products in Norway, which undergo many tests and have a quality guarantee. I trust this brand and recommend it to you. By the way, on the iHerb site this fish oil has the most positive reviews.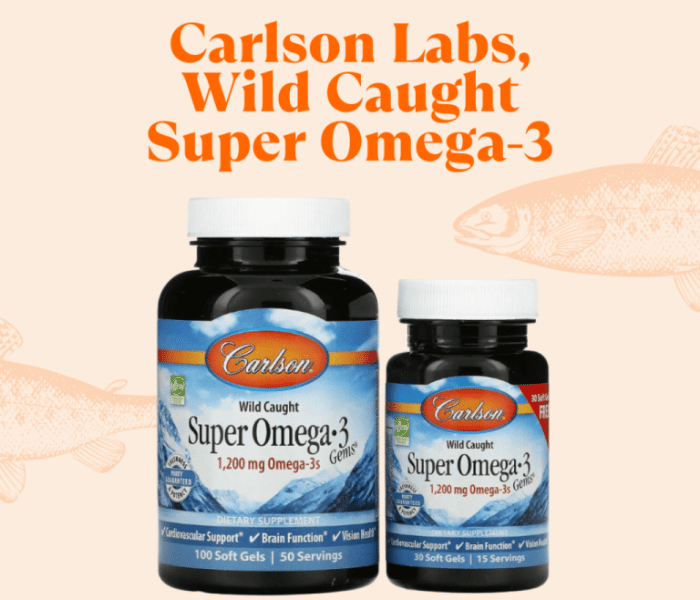 Life Extension, Super Omega-3
Life Extension is another one of my favorite vitamin manufacturers. I also love Super Omega-3 and recommend it to you. The serving, which is 2 capsules contains Pure+™ Fish Oil Concentrate from wild-caught fish: 2000 mg, EPA 700 mg, DHA 500 mg. And here is the entire composition:
Pure+™ Wild Fish Oil Concentrate
Yielding:
EPA (eicosapentaenoic acid)
DHA (docosahexaenoic acid)
2,000 mg

700 mg
500 mg
**

**
**
Polyphen-Oil™ Olive extract (fruit and leaf)
[providing 19.5 mg polyphenols, 5.2 mg hydroxytyrosol/tyrosol, 4.4 mg verbascoside/oleuropein]
300 mg
**
The dosage works! The manufacturer also added olive fruit and leaf extract and sesame seed lignan extract for better digestibility and effect. From time to time I take this fish oil when the first one is not available. The price is $24 for 60 capsules, enough for a month. Don't forget to enter promo code DMU6301 for maximum discount iHerb.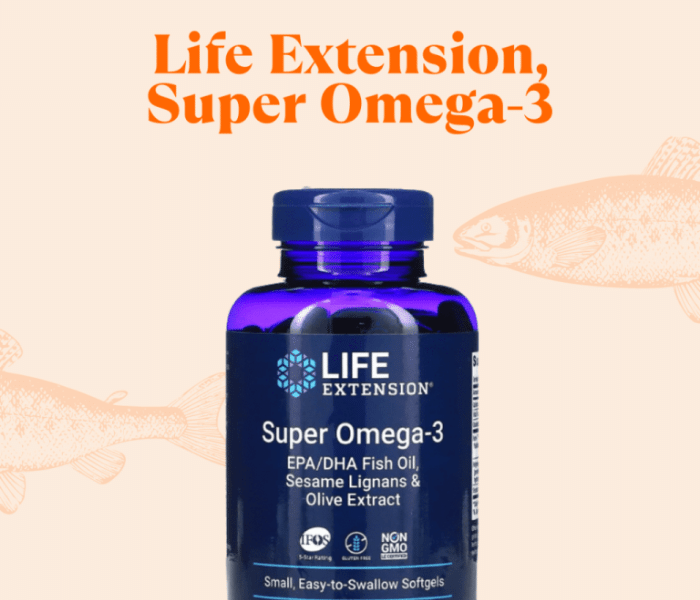 Solgar, Omega-3 Fish Oil Concentrate
Omega from Solgar is the most popular in the United States. It is prescribed by many doctors. And this is for a reason. It really is of good quality and proven effectiveness. The composition is good:
Cholesterol
20 mg
7%**
Fish Oil Concentrate comprised of:
Total Omega-3 Polyunsaturated† providing:
EPA (eicosapentaenoic acid)
DHA (docosahexaenoic acid)
2000 mg
600 mg
320 mg
200 mg
***
***
***
***
The advantage of this fish oil is that Solgar vitamins and supplements can be found in almost every pharmacy. This comes in handy when there is no time to wait. But buying on iherb will come out cheaper. If you take advantage of promo codes and discounts, it will be even more profitable. Right now on the site the price is $25 for 240 capsules!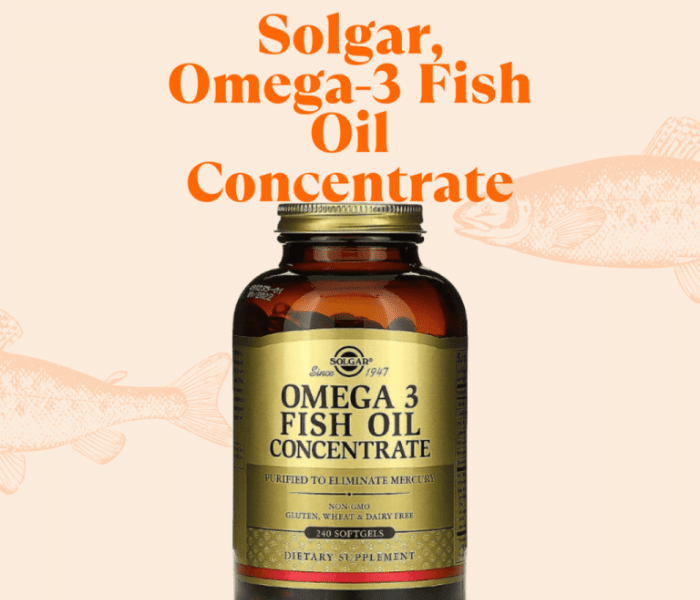 NOW Foods, Omega-3
This omega differs from the others in that the manufacturer assures that it is purified on a molecular level. This means that it goes through several stages of purification. The composition is pleasing
ish Oil Concentrate
2 g (2,000 mg)
†
Omega-3 Fatty Acids:
Eicosapentaenoic Acid (EPA)
360 mg
†
Docosahexaenoic Acid (DHA)
240 mg
†
I started taking fish oil from iHerb with it. I can't say anything bad about it, the dry skin is gone, heart function is normalized, since I suffer from tachycardia. Buying this Omega on iHerb is probably the best deal. Because the price for the whole 500 capsules, which you have enough for almost a year is only $33. Very good value for money.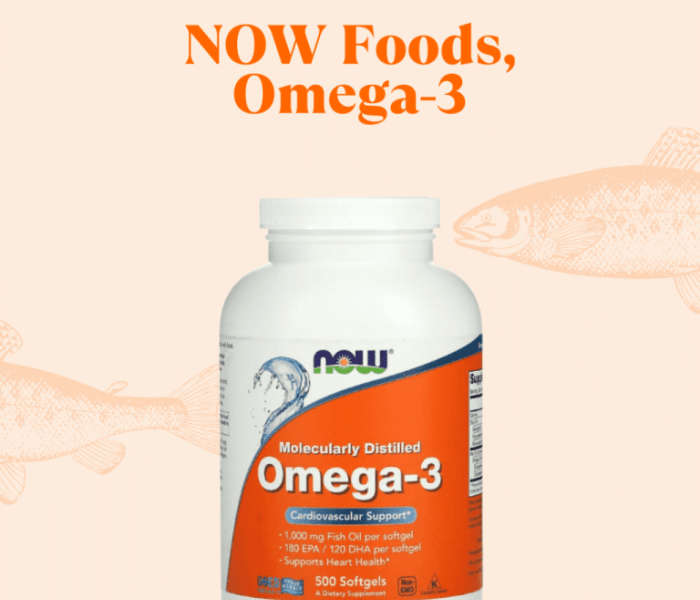 Sports Research, Omega-3 Fish Oil, Triple Strength
Another very high quality fish oil supplement. A very good working composition:
Wild Alaska Pollock Fish Oil Concentrate
(AlaskOmega®)
1250 mg
†
Total Omega-3 Fatty Acids as TG
1040 mg
†
Eicosapentaenoic Acid (EPA as TG)
690 mg
†
Docosahexaenoic Acid (DHA as TG)
260 mg
†
Other Omega-3 Fatty Acids
90 mg
†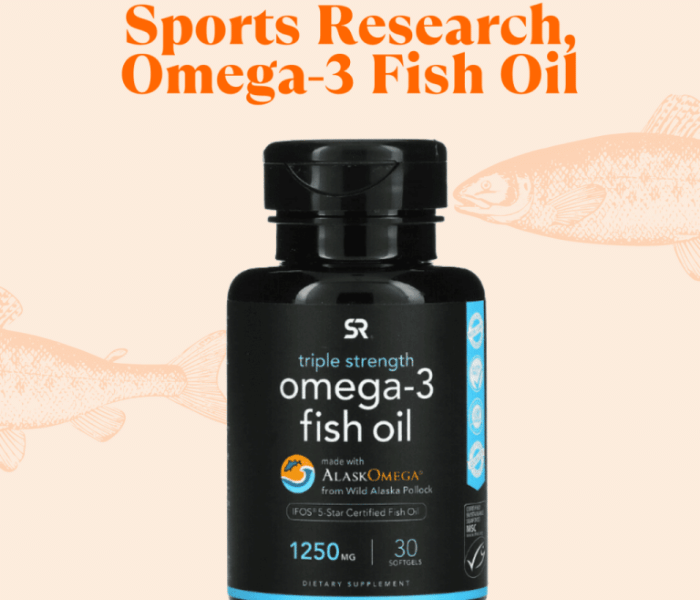 I have received a lot of positive feedback from my friends about this supplement. I take it myself from time to time. The fish oil is made from Alaskan pollock, which I like very much. The fish lives in cold waters, not artificially raised on farms. That means it will get the most benefits and no harmful additives in its composition. For those who care about the form of fish oil, those will appreciate that this supplement is in triglyceride form. There are more and more studies coming out now that it does not matter what form you drink omega in. What matters is the composition of EPA and DHA. And here it is good. The price is also attractive at $19 for 60 capsules. One or two capsules, preferably with a fatty meal, should be taken.
In general, this is the entire rating of Omega 3. I have for 6 years, drank almost all the omega from the site iHerb. Unfortunately, from some I saw no effect, others started fishy burping, while others when opening the capsules generally had an unpleasant smell. In this top I have collected the best Omega from iHerb, which you will definitely help and like!